Eliminating February vacation days proposed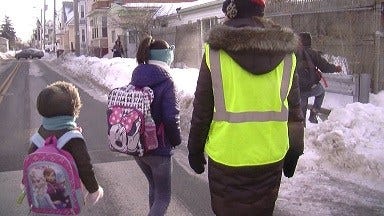 By Dana Griffin
@DanaGriffinABC6
PROVIDENCE, RI- A new proposal being considered by public school committees around the state could eliminate 3 of the 5 February vacation days so students won't have to make it up at the end of the school year if there are extra snow days.
"This would push it up a little bit earlier so if you had snow days, you can build onto the end of that school year and you wouldn't be getting too close to July," said Rhode Island Association of School Committees executive director, Timothy Duffy.
Duffy says it's like an incentive for schools that don't have central air conditioning.
"The closer you get to that July 4th deadline– it's harder and harder to get students to focus and instructors to focus if the classrooms are stifling hot," said Duffy.
Another rational for shortening February vacation is to allow for more study time for the PARCC Assessment- a new standardized test replacing Rhode Island's NECAP test.
South Kingstown school committee member, Scott Mueller said, "There's a hesitance to add a lot of extra time to the summer. The question: does that make a difference?"
Newport school committee chair, JoEva Gaines says if she had to choose a vacation to shorten, it would be February.
"It's the most treacherous as far as the weather is concerned so it just makes more sense. Instead of having snow days in February, have those be vacation days," said Gaines.
If approved, each district will decide to adopt the changes and it wouldn't take affect until 2016.
There's another proposal to make virtual learning a part of the deal so students can get instruction and assignments online while out of the classroom because of snow.
©2015 ABC6/WLNE-TV. All Rights Reserved.