Providence EMA: Be ready, get supplies, stay off roads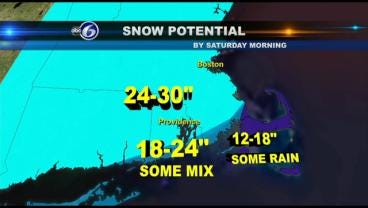 By: Alexandra Cowley
Rhode Island Emergency Management has a list of must have supplies that you should keep with you Today. Make sure you have extra batteries for your flashlights, a battery–operated radio or TV, and a first aid kit.
Also, bottled water is a must, and a list of important phone numbers.
All Rhode Island schools and a good number in Massachusetts are shut down Today. Rhode Islanders are being urged to stay off the roads and avoid unneccesary travel Today. The Department of Transportation says roads could become treacherous as winds and drifting snow reduces visibility.
Officials in Providence are urging businesses to let their employees work from home, or leave the office by Noon to avoid the worst of the storm.
There are cancellations Today at airports and on the rails. Four out of the five airlines at TF Green have already canceled flights for this afternoon. A few are still taking off this morning. Flights out of Logan are cancelled, as well.
Airports are asking you to call your airline ahead of time, to see whether your flight has been cancelled.
Amtrak will stop service from Providence this morning. The "T" and the commuter rail will also stop running today, shutting down at 3:30 Friday afternoon. All RIPTA routes are cancelled for today, including RIDE Program services, unless it's for medical reasons.