Enter to win a Providence Adventure!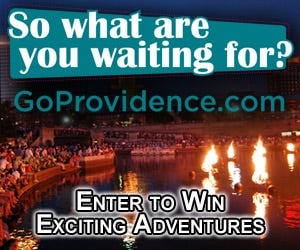 Visit Providence Today!
Providence is a great place to spend your summer.
Here is week 3's trivia question. Please enter below for your chance to win!
Thousands of visitors flock to Providence for
WaterFire. For what occasion did Barnaby
Evans create the first fire in 1994?
ABC6 Prizes
Week Three 8/19-8/26:
· A $100 Providence Place gift card and a $50 PF Changs gift card
Week Four 8/26-9/2:
· Family four packs of passes to the RISD Museum, Providence Childrens Museum and the Museum of Natural History
GRAND PRIZE WILL BE SELECTED RANDOMLY FROM THE WEEKLY WINNERS.
Grand Prize Winner will be selected on Tuesday 9/3:
· Two night stay at the Providence Marriott Downtown for a family of four
· Four tickets to the premiere of "Evita" at PPAC on Sept. 8
· Dinner for four at Angelo's Restaurant on Federal Hill
Winners will be selected at random from all correct answers.
This prize may be subject to any state, federal or any other taxes. Any outside expenses accrued by the winner are the sole responsibility of the winner. Prizes are at fair market value, nor are they able to be substituted or transferred. WLNE (ABC6) may substitute a prize of greater or equal value. Alternate prize winners will be selected if these requirements are not met. Alternate winners are subject to these requirements as well.
Prize winners may be required to sign tax forms or other legal documents and a release from WLNE. This will be to release WLNE and any sponsors from liability related to the contest and receipt and use of the prize.
If contact with the winner is not established, WLNE may select and alternate winner. Only prize winners will be contacted by WLNE.