Ethics Commission votes to open investigation into Mayor Baldelli-Hunt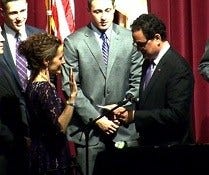 By: Dee DeQuattro
Email: ddequattro@abc6.com
Twitter:@deedequattro
The Rhode Island Ethics Commission has voted to open an investigation into potential nepotism by Woonsocket Mayor Lisa Baldelli-Hunt.
Baldelli-Hunt is accused of giving city jobs to her son and members of his baseball team without posting the jobs first. Baldelli-Hunt's 16-year-old son and his teammates were hired to pick up litter and clean city streets on a part time basis.Baldelli-Hunt describe the positions not being posted as a "misstep."
The jobs fall under the Department of Public Works in the city.
The Ethics Commission now has 180 days to conduct an investigation. From that point there would be a probable cause hearing on the matter.
(C) WLNE-TV 2014