EXCLUSIVE: Inside Taylor Swift's secret RI listening session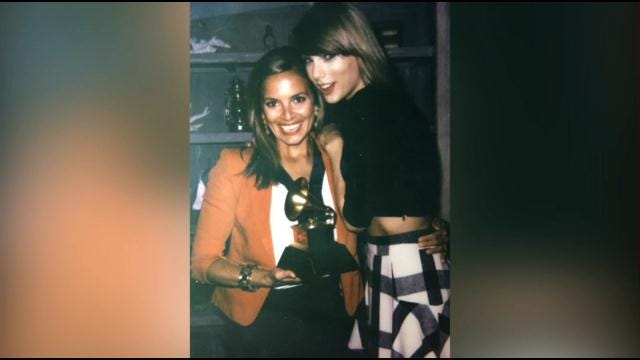 By: Alexandra Cowley
Taylor Swift's new album '1989' album was released on Monday, but some of her biggest fans heard the entire album weeks ago in what's been dubbed 'The 1989 Secret Listening Sessions.'
24-year-old Taylor Swift is easily one of the biggest pop stars in the World. Her fan base is enormous and incredibly loyal. Which is why Taylor says she wanted to say thank you by inviting her biggest fans into her many homes to hear 1989, before it went public.
Swift explains, "This is the first secret session, which are little mini living room house parties where I'm going to be playing my fans the album first."
Taylor held the fifth and final listening session at her home in beautiful Watch Hill. I was the only journalist invited to attend one of these top secret parties. We waited for two hours, snacking on a ridiculous amount of food from sushi, to pizza. All the while, wondering when Taylor would appear. Then, while we were gathered in her open living room, surrounded by wall to ceiling windows overlooking the Atlantic Ocean, she appeared. She came down her wrought iron stair case and walked into the crowd of screaming, some crying, fans.
Taylor sat in a chair in her elegant, beachy living room surrounded by 89 of her most dedicated fans. All of whom she handpicked through social media.
"Everyone was freaking out," explained Swiftie Hannah Webster.
One of those fans, was 14–year–old Hannah Webster from Assonet.
"Oh my god! I was like so nervous, but like an excited nervous, but I wanted to like cry out of happiness," exclaimed Webster.
Hannah and the other fans had no idea where this secret session would be held. They all got a call just days before.
"It said that I had been picked for a special event involving Taylor and that I couldn't tell anyone about it until after it happened," said Webster.
All these die-hard Swifties knew was the code word needed to get in and that they might be meeting their biggest idol. They had no idea the secret listening session would actually be held at Taylor Swift's Westerly home, that is until they pulled in the driveway.
"Whoa we're in the driveway right now, that's her car right there, this is her house, that is her garage," Webster explained what it was like realizing where she was.
Taylor hooked her iphone up to a loud speaker and played each and every song on the 1989 album explaining the inspiration for the tracks along the way.
Hannah's mom was there too. Fans under 18 had to be accompanied by an adult.
Mellanee Wesbster said, "As I was sitting there eating sushi thinking wow, I'm in Taylor Swift's house. Just eating sushi and drinking soda and just kind of hanging out. It was a cool experience for me, so for Hannah, it was just over the top."
This was not Hannah's first interaction with Taylor. A few months ago, Hannah posted on Instagram about the tough time she was having with girls in school. Taylor responded to her post, giving Hannah her wise advice to just "Shake It Off."
"It really helped me when I started school I carried it around with me and put it in my locker," smiled Hannah.
Taylor was quite the host. Not only did she feed them really well, she also made them her homemade chocolate chip cookies and rice krispies treats, before dancing the night away.
(C) WLNE-TV 2014