Exit 22 on I-95S to close overnight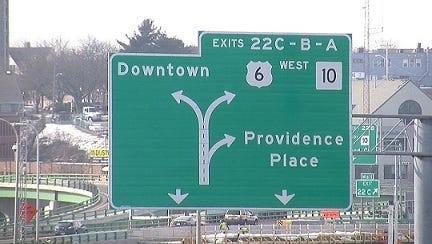 By: Melissa Randall
Rush hour could be getting a lot more hectic for peoplecommuting through Rhode Island'scapitol city. Starting early Saturday morning the Rhode Island DOT willtemporarily shut down Exit 22 A, B and C on I–95 South by the Providence PlaceMall.
"It's hard to get to where I got to go– if I have to gosomewhere. I only know one way to everywhere," said Carol Horton of Providence who isn'thappy about the change.
The closure is part of the viaduct replacement project. Crewswill be pouring concrete as they work to widen the exit before it splits intothree sections. During that time drivers will have to find another route.
Drivers heading down town will take Exit 21 for Atwells Ave.Commuters who are proceeding to the 6-10 Connector will stay on the highwaysouth bound to Exit 16 which would bring them back up to 10 north bound.
The closure is scheduled to last into early next week. Thebulk of the traffic tie ups would come with the rush hour commute Monday.
"It's going to be crazy, so I'm going to have to go aroundthe city," said driver Enrique Remolina of North Providence.
"I plan on leaving half an hour earlier to get to mydestination," said Ann Dupre of Providence.
The RI DOT understands the frustration felt by drivers, butsays the work is necessary—
part of a larger three year project to replace the bridge.
"[It's] really important for folks to understand as well–this ramp is closed- Providenceabsolutely open for business," said Rose Amoros, RI DOT CommunicationsDirector.
Police details will be at all major intersections to helpkeep traffic flowing. Detour signs will also be posted to help driversnavigate.
32,000 cars use Exit 22 in Providence on a daily basis, according to theDOT. It is one of the busiest not only in Rhode Island, but in the entire North East.
The exit is scheduled to re–open Tuesday morning, but couldhappen sooner.
© WLNE-TV 2014
Follow me on Twitter@MelissaARandall