Exotic reptiles seized from Warwick apartment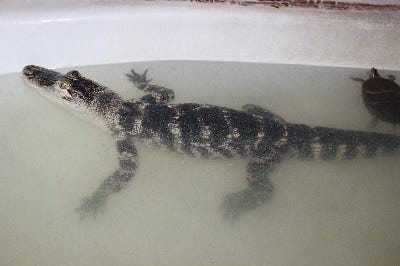 Nicole Gerber
ngerber@abc6.com
@nicolegerber
WARWICK – Dozens of exotic reptiles, including an alligator, were
seized from a Warwick
apartment, where they were living in
poor conditions for years.
Police responded to the Warwick Avenue apartment for a domestic
issue yesterday, when they found the gator in a bathtub… alongside more than
a dozen snakes, 4 turtles, a water monitor, and dozens of lizards.
"I mean those types of animals require space they
require appropriate lighting, and none of that was acceptable," said Joe Warzycha, animal cruelty officer for the RISPCA.
To avoid animal cruelty charges, the owner turned the
reptiles over to the RISCA.
Domenic Parisella, the owner of Pure Paradise Pets in Johnston, then
volunteered to take, and keep, all the animals.
"I can get them back up to health, and I know that I'll be
putting them into a heck of a lot better position than they were in," he said.
One snake was transported to a vet immediately, and a
snapping turtle was taken to a refuge where it will be released back into the
wild.
All of the animals at Pure Paradise Pets will be treated in an electrolyte bath, given the proper housing, and fed… just the beginnings of the rehabilitation process.
Chompy the alligator will become one of 4 gators owned by Parisella. He will become the feature of a new reptile area at the store on 39 Putnam Pike in two weeks.