Fairhaven Board of Health Election Still in Dispute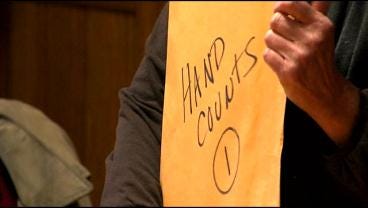 by ABC6 Chief Political Reporter Mark Curtis
There is more turmoil over an election outcome in Fairhaven. It involves a seat on the Board of Health. An emergency meeting of the Board of Registrars ended after about fifty minutes, but this matter is not over. It was reveled that an envelope containing 45 ballots was actually counted twice. Critics are crying foul. "Throw this thing out and do it over again," shouted one man from the audience.
The meeting got heated at times, especially after the outcome of the vote changed once again. Incumbent Peter DeTerra now has a two-vote margin. Tuesday morning the Town Clerk said DeTerra had prevailed by one vote.
The problem is on election night his challenger, John Wethington, was declared the winner by three votes and was promptly sworn into office. To anyone's knowledge, this has never happened in the State of Massachusetts, and as of now both sides claim to be the winner.
John Markey, Peter DeTerra's attorney said, "I anticipate that the Town Counsel is going to make a decision, between now and the next election, but Mr. DeTerra would intend to be there since he is the person who received the most votes."
Ann DeNardis, John Wethington's attorney said her client is the rightful office holder saying, "At this point it's our position that that would still be in dispute, my client was duly sworn in."
When the Board of Health next meets, no one is sure which – if any – of these two men will be seated. The whole case could be headed to court.
There is also discussion of doing the vote over again. There is a U.S. Senate primary April 30th and some people would like to see a do-over, with the Board of Health race added to that ballot.
The Board of Health race became highly charged, in part, over the controversial wind turbines in Fairhaven. DeTerra favored the wind turbines, while Wethington is opposed. Analysts say whichever side gains a majority on the Board of Health and Board of Selectmen, could determine if the turbines stay, or are eventually taken down.