Fall River City Council to Review Taxi Deliveries of Meeting Agendas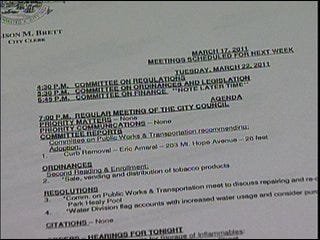 The Fall River City Council has been having meeting agendas delivered via taxi to the councilors for decades, but today that practice might be coming to an end.
A city taxi service has been charging the city $75 every week to hand-deliver hard copies of the upcoming City Council meeting agenda to all the city councilors, which costs the city about $2000 a year. Several councilors say the practice has been going on for at least 30 years, and none of them knew it actually cost the city anything.
City Councilor Pat Casey says she had no idea that there was a cost involved and is in favor of discontinuing the practice to save the city the money. One possible solution would be to have the City Clerk email meeting agendas to all the councilors – but two of them say they don't know how to use email. One of those two, Council President Leo Pelletier, owns two Internet cafes in town. He tells ABC6 that he'll start asking his wife, who works at City Hall, to pick up the agendas for him.
ABC6 Anchor Mark Curtis has the story from Fall River – because You Paid For It.