Fall River City Councilor Caught in Prostitution Sweep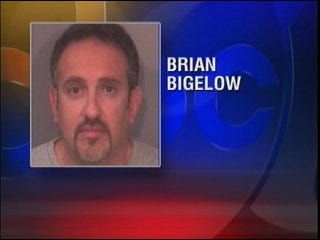 22 men and 1 woman were arrested Friday in Fall River as part of "Operation John," a prostitution sweep conducted by the Fall River Police Department's Vice Unit.
Caught up in the sweep was 49 year-old Fall River City Councilor Brian Bigelow, who is out on bail for allegedly attempting to solicit sex for payment from an undercover female officer of the police department. He's due back in court on Monday.
The names of the others arrested are:
Ronald Coulombe, 55, of Somerset
Manuel Raposo Jr., 59, of Fall River
Eric Hoffman, 36, of Fall River
Cliffton Neumeyer, 49, of Fall River
Michael Borges, 40, of Dartmouth
Steven Oliveira, 30, of Fall River
Brian Blackburn, 37, of Fall River
Emanuel Dejesus Fernandes-Mendes, 25, of Fall River
Sherman Lloyd, 49, of Fall River
Peter Souza, 36, of Fall River
Paul Arraiol, 34, of Swansea
Steven Enos, 23, of Berkley
Brijesh Patel, 35, of Attleboro
Ritesh Patel, 37, of Tiverton
Peter Feijo, 33, of Fall River
Scott Almeida, 33, of Westport
Guilherme Pimental, 38, of Fall River
Gabriel Melo, 22, of Fall River
John E Rosenbaum, 29, of Fall River
Paul Mendonca, 63, of Fall River
Juvenil Dasilva, 42, of Fall River
Staci Couto, 40, of Fall River