3 Multi-Family Homes Burn in Fall River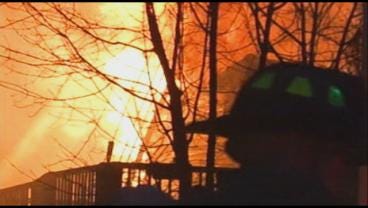 A large fire burned one multi-family building to the ground and seriously damaged two others in a three-alarm fire Friday evening. The fire was so intense that onlookers could see the flames shooting into the sky, all the way from Route 195.
The fire became so dangerous that the entire block had to be evacuated. Firefighters had to make extra efforts to put out the blaze, since strong gusts of wind continually spread the flames.
One home disintegrated and collapsed as a result of being thoroughly on fire.
At least three families lost everything they own including furniture, house pets, and personal possessions. They are now homeless.
Kerri Thro, who owns the apartment building lost in the fire, said the fire started while some of the occupants were picking up their children at school. Ten people lived in the building, all of whom are now homeless.
No one was injured at any point during the fire.