Fall River police arrest woman on drug charges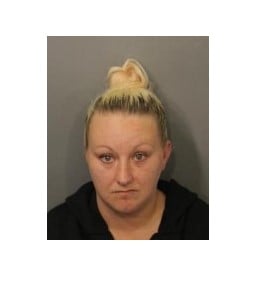 FALL RIVER, Mass. (WLNE) – Fall River police have arrested a 30-year-old woman after a search of her apartment.
On Tuesday afternoon, police say members of the Fall River Vice and Intelligence Unit were doing a pre-search warrant surveillance of a home on Osborn Street.
The officers had a search warrant for the first floor apartment of 231 Osborn Street. The resident, Laurie Lucas opened the front door when investigators knocked.  Detectives then announced they had a search warrant and entered the apartment.
A search of the apartment and a storage area was conducted.  Authorities located 430 blue glassine bags of Fentanyl, 2 Suboxone films, and $17,631.
A press release from the Department says "The U.S. currency was seized by investigators as suspected drug proceeds and will be turned into evidence for future forfeiture proceedings."
Laurie Lucas is charged with possession of a Class A drug with the intent to distribute, possession of a Class B drug, and six unrelated arrest warrants.
©WLNE-TV/ABC6