Fall River Police helping little league team in Houston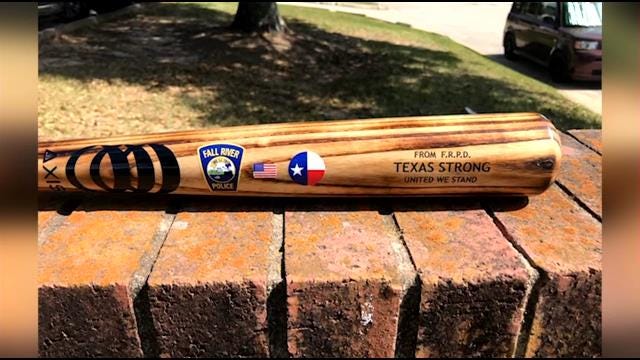 By: News Staff
Email: news@abc6.com
Twitter: @ABC6
FALL RIVER, Mass. (WLNE) — A thoughtful gesture by police officers in Massachusetts is now helping young baseball players in hurricane ravaged Houston.
Dozens of new baseball bats are on the way to Texas thanks to a Fall River company and the city's police department.
When Hurricane Harvey swept through Houston in August, it flooded more than 30,000 homes causing more than $50 billion in damage leaving many with just the clothes on their backs.
When Fall River Police Sergeant Brett Kimball heard the Houston Police Department needed help, he did not think twice.
"It doesn't matter where we are, we watch and we listen and we answer the calls for help," said Sgt. Kimball.
A little league team run by the Houston Police Department lost all of its equipment in the storm. The kids were left unable to play the game they love.
Sgt. Kimball contacted a Fall River company called "Axis Sports" asking them to produce specially made bats for the team. The owner, Louis Ledoux, got straight to work.
"I think it's a great way to show the younger generation that the police do good things, they care about them and there was a need there for sporting goods equipment in Houston," said Ledoux.
Five dozen of these bats recently arrived in Houston.
"These are top notch, these aren't made from someone in their garage, they are professional," explained Ledoux.
Each bat was engraved with the Fall River Police Department's logo, the Texas flag, and the words: "Texas strong, united we stand."
"Being a police officer that bond stretches over thousands of miles even ten miles," said Sgt. Kimball.
The Fall River Police Department and Axis Sports have been working together for years giving special bats to top-performing students in the city.
©WLNE-TV / ABC6 2017