Fall River prepares for more snow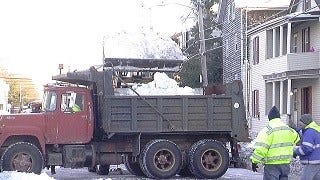 By: Samantha Lavien
Slavien@abc6.com
Twitter: @SLavienABC6
With a blizzard warning in effect for Southeastern mass city's and towns are trying to get ahead of the storm doing what ever they can before it starts to snow.
In Fall River, that means moving truck loads of snow out of city neighborhoods.
"We know the public is taxed right now with no place to park, the roads are kind of jammed up, businesses are suffering, so what we are trying to do is give people an opportunity to have a little room a little breathing room," said the Fall River Director of Community Maintenance Ken Pacheco.
The Bristol County community is getting some extra equipment in order to make the job possible from MEMA and Mass DOT.
"They've provided us with two loaders, two backhoes, four dump trucks to date. And, it looks like eight more dump trucks are coming," said Pacheco.
So far, Pacheco tells ABC 6 his team has moved snow from about a 6 mile stretch and they've also widened several streets.
"We've moved a lot of snow in the past couple days and we may be at this tomorrow until the snow starts to fly," said Pacheco.
Friday night, the mayor, Sam Sutter, met with city leaders.. putting together a comprehensive plan to deal with this latest storm.
"I'm going to be asking the romantic couples to try and get back a little bit sooner because we are expecting the storm to pick up in intensity around 11 o'clock," said Sutter.
The city will be implementing a parking ban beginning Saturday afternoon.
And, once the snow starts more than 175 plow drivers are ready to hit the roads and begin yet another winter cleanup.
(C) WLNE 2015