Fallen Providence police officer inspired 13-year-old boy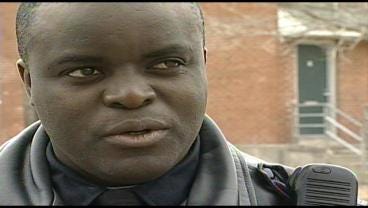 People are doing everything they can to make sure the memory of Sergeant Maxwell Dorley lives on, but one family in Providence does not have to go further than their front door to see the impact he left behind. They see it every time they come home.
Christopher Hiciano has seen a lot of crime for a 13-year-old. The public housing complex he lives in was riddled with it until officer Dorley came along.
"A group of gang members, drug dealers, Max took out all of these guys," Christopher said. "It was only one officer and he took them all out."
Officer Dorley had a passion for improving public housing. In 2004, he worked hard to make the Chad Brown Projects in Providence safer. Dorley grew up in the projects himself.
"That's why I take pride in what I do," Dorley told ABC 6 News in 2004. "The kids that I see here, a lot of them remind me of how I used to be."
Perhaps that is why Dorley gave Christopher's mother his personal number. She kept it on the refrigerator. He told her to call anytime. His mother does not speak English, so Christopher translates.
"He was like our guardian," Nancy Castillo said. "Our hero, our protector."
The conversations Christopher remembers having with Dorley shows he was much more than a cop, he was a father figure.
"When I was 5 or 6 years old, he came and yelled at me," Christopher remembered. "He said, 'you don't respect your mom? Mom call me and I will come back if he doesn't.'"
While Sgt. Dorley is not around to hear how much he meant to the 13-year-old boy, Christopher knows that somewhere he is listening.
"If he can hear me from the sky in Heaven, I want to thank him," Christopher said. "Thanks Max, for all you have done, everybody, the whole street, the whole block, the whole neighborhood. It is better because of him. Elmwood is a better place because of him."