Fallen soldier returns home to Rhode Island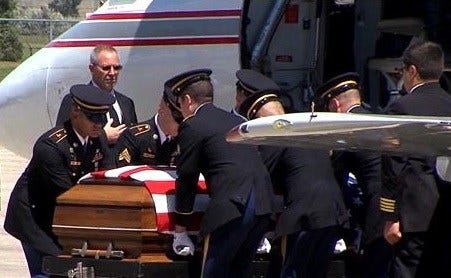 By News Staff
Reporting by Samantha Lavien
slavien@abc6.com
A hero's welcome for 1st Sergeant Peter Andrew McKenna as his body is returned to Rhode Island today.
Thousands coming out in an overwhelming show of support, lining the 45 minute drive from Quonset Air Force Base to a Funeral Home in Bristol.
1st Sgt. McKenna, a Green Beret in the U.S. Army Special Forces, was killed in Afghanistan on August 7th after an attack by the Taliban.
First responders decorated overpasses and residents stood outside holding American flags in McKenna's honor–a sobering welcome home for the 17-year veteran. There was complete silence as his body arrived back in his home state, the Honor Guard carrying the casket wrapped in an American flag.
The Congressional Delegation and other service men and women stood close by in a show of solidarity as McKenna's family said their goodbyes in privacy
"This young man gave his life for our country… it's very difficult," said State Representative Ray Gallison.
Herbie Moitoso was one of hundreds to gather in front of the funeral home where the 35-year-old's body was taken. He was overcome with emotion as the motorcade drove by, "As good as they come. Very good family. Very good boys," he says about McKenna.
"Very touching. The second Bristolian in the past few years… it's tough. A very big thank you. It's because people like that that we are able to have the freedom we have," Moitoso continued.
People in McKenna's home town of Bristol say they want his family to know how much they appreciate his sacrifice.
Mary Lou Anderson- came to support McKenna
"It's keeping us safe… and with all the terrorist attacks that we are hearing about now, it's a scary world out there," says Mary Lou Anderson, a resident who came out in support.
Sgt. McKenna is being considered for a two prestigious medals, a Silver Star Medal and a Purple Heart.
A wake for Sgt. McKenna will be held Sunday from 3 p.m. to 8 p.m. at St. Mary's of the Bay in Warren. The funeral is planned for 11 a.m. Monday at the same location, followed by a burial at St. Mary's Cemetery in Bristol.
© WLNE-TV 2015