Familiar group leads Bruins to another Cup final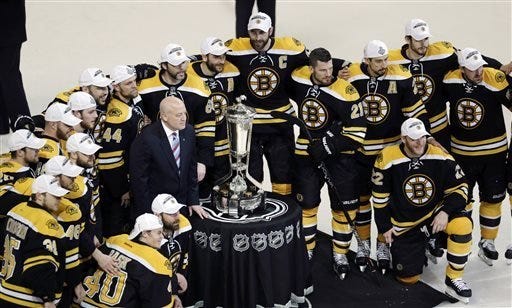 The Associated Press
BOSTON (AP) — Same coach. Same players. Same berth in the Stanley Cup finals that they earned two years ago.
And, the Boston Bruins hope, same result.
Claude Julien still uses a tight defensive system that's not
particularly exciting but very effective. He had 16 players from the
2011 champions in uniform to execute it in Friday night's 1-0 win that
clinched a four-game sweep over the Pittsburgh Penguins in the Eastern Conference finals.
The return to the Cup finals reinforces general manager Peter Chiarelli's decision to keep the group together.
''Yeah, absolutely,'' he said Saturday. ''There's a fine line between
unfettered loyalty to the players and building a good team. That's my
job to find that line. I'll continue to try and do it. This team has
showed a lot of character through this playoff run.''
The only four players in uniform Friday who were not with the Bruins two years ago were forwards Jaromir Jagr
and Kaspars Daugavins, defenseman Torey Krug and backup goalie Anton
Khudobin. Daugavins replaced Gregory Campbell, another 2011 holdover who
played 15 postseason games before breaking his leg in Game 3 against
Pittsburgh.
So Chiarelli figures the Bruins will be better prepared for the
finals than they were two years ago. The Chicago Blackhawks led the Los
Angeles Kings 3-1 in the best-of-seven Western finals going into
Saturday night's game.
Unlike in 2011, this year only one of the Bruins' first three series
went seven games. And that was a springboard to their future success.
They took a 3-1 lead in the opening round against Toronto before
losing the next two games. They trailed 4-1 with less than 11 minutes
left in the third period of Game 7. Then Nathan Horton scored for Boston
and, after pulling their goalie for an extra skater, the Bruins tied it
with 51 seconds left in regulation with two goals in 31 seconds.
Then Patrice Bergeron won it in overtime.
According to the Elias Sports Bureau, the Bruins are the first team
in NHL history to win a Game 7 after trailing by three goals in the
third period.
''You can tell in the way we've been playing since that game that we
were able to create some momentum,'' forward Milan Lucic said, ''and it
carried on into the New York series and it carried on to this series. I
think once we won that game, we definitely started to believe in what we
could accomplish. And here we are.''
The Bruins beat the Rangers in five games then swept the NHL's highest scoring team, outscoring the Penguins 12-2.
The comeback against the Maple Leafs ''was a driving force going
forward,'' Chiarelli said. ''The fact that we did that certainly
catapulted us into our level of play and performance, definitely. You
could see the team pick itself up. Going back to when it happened, you
could feel the momentum.''
Starting with that game, the Bruins have won nine of their last 10
with a 33-16 goal differential. Their defense has given opponents
limited time and space to control the puck and their offense has made
precise passes to players in just the right position. And goalie Tuukka Rask stopped 134 of 136 shots by Sidney Crosby and the rest of the suddenly punchless Penguins.
''This series here against Pittsburgh was not a 4-0 series,'' said
Julien, in his sixth year as coach of the Bruins. ''I really felt that
the breaks went our way in this series on a lot of occasions.''
Of course, they made many of those breaks.
''From top to bottom, we've been rolling,'' Chiarelli said. ''Our
breakout has been relatively seamless. I think our neutral zone
forecheck – there's been tweaks here and there – has been terrific. Our
forecheck has been terrific.
''So in all three zones we've been really good. Defending we've been
good; Tuukka's been terrific. We're generating a lot of chances. We're
scoring when we have to. We're shutting down when we have to. So, it's
hard to complain after the last two series. The challenge will be to
keep it going in the next series, whoever we play.''
One of the newcomers is Jagr. The Bruins obtained him April 2 to
boost their offense after a trade with Calgary fell through for Jarome
Iginla, who chose to go instead to the Penguins. He felt they had a
better chance to win the Cup.
''In my profession you learn to turn the page and go to the next
thing,'' Chiarelli said. ''It's satisfying that we won with the group
that we had. I'm happy to see the contributions we got from Jaromir and
the other players that we acquired.''
Jagr won the Cup in his first two seasons, 1991 and 1992, with the Penguins.
More than two decades later, he can win his third. He never abandoned the thought that it could happen.
''If you don't believe, you don't have a chance to succeed,'' Jagr
said. ''So you always have to believe. You have to believe the highest
thing you can imagine. Of course, every time I step on the ice I want to
win the Stanley Cup.''
Rask didn't play in the 2011 playoffs. Tim Thomas was the goalie then
and was voted postseason MVP after a 16-9 record and 1.98 goals against
average.
So far, Rask is 12-4 record with a 1.75 goals against average in the playoffs.
''You can't change anything,'' he said. ''It's been working so far so (we've) got to keep it up.''
NOTES: Chiarelli said he's not sure whether Campbell will have
surgery on his broken right leg. He was injured in the second period of
Game 3 against Pittsburgh when he went down to block Evgeni Malkin's
shot and it hit his leg. He kept playing for about a minute before
reaching the bench. … The Bruins were scoreless in 12 power plays
against the Penguins but kept Pittsburgh from scoring on its 14 power
plays.