Family of Fall River woman with brain injury hopes to meet Justin Bieber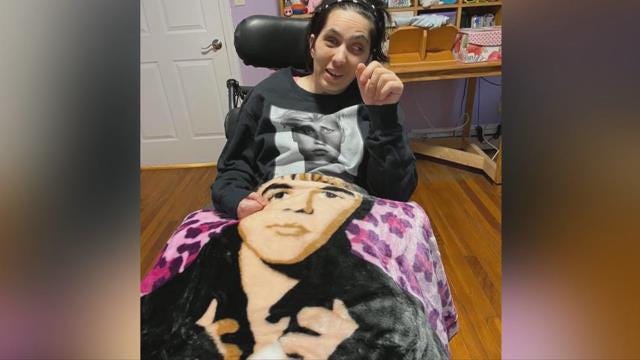 Email: BTaylor@ABC6.com
Twitter: BTaylorABC6
SWANSEA, Mass. (WLNE): A Fall River mother is hoping her 31-year-old daughter can meet Justin Bieber when he comes to Gillette in September. Her daughter can't speak or walk, but his music has made her smile and brings her joy throughout the years.
Katelynn Dias was 10 years old when her mother says her life changed in one moment.
"She woke up and was not feeling great," Giselia Dias said. "She went to my mom and said I have a headache and within 20 minutes we think she had a seizure."
Katelynn, now 31, had bleeding in her brain, something known as Arteriovenous Malformation, or AVM.
"They said your daughter isn't going to make it through the night," Dias said. "There is a 1% chance she will make it through this."
Katelynn proved them wrong and eventually left Hasbro Children's Hospital to undergo rehab in Boston.
However, 3 years later her brain started to bleed again. In the last 2 years, Katelynn has had 11 brain surgeries.
Katelynn now lives in an assisted living home, with Horace Mann Education, in Swansea.
Giselia, a single mother, says her daughter is happiest when she listens to music, specifically Justin Bieber.
Katelynn is non-verbal but she is cognitive and when listening to the Biebs, she responds to it.
"His music videos are on all day long," she said. "I think that's how she connects."
Katelynn has a life-size cardboard cut-out of Justin Bieber in her room.
"She watches him and gets a big smile on her face," Giselia said.
That's why the staff at the home Katelynn lives in took to social media, hoping that when the star comes to Gilette in September, he would meet her.
This would be another miracle for Katelynn.
©WLNE-TV/ABC6 2020