Family of Pawtucket sailor mourns his death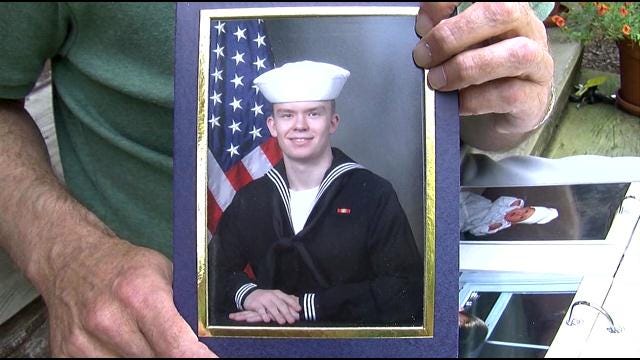 By: Alexandra Cowley
The family of a 21–year–old sailor from Pawtucket, who fell to his death at a Navy base, is trying to cope with the loss. Officials say Morgan Hayman was in a fight with another sailor when he fell 6 stories off a balcony. His uncle can barely speak as he talks about his nephew, who brought so much joy to their family.
If you watch the home video of Morgan Hayman, you can see his kind demeanor. It was taken just before he took off for boot camp in Chicago.
"My goal is to graduate boot camp," Hayman smiled in the video.
Hayman did graduate and went on to serve in the Navy as an Aviation Ordnanceman. He was assigned to the USS Harry S. Truman, which just got back from a 9 month deployment in April.
"Just sort of a tragic, senseless accident," explained Scott Hayman, Morgan's uncle.
On Tuesday, Hayman fell 6 stories from a balcony at the Navy barracks in Norfolk, Virginia. The fatal fall is still under investigation, but officials say it transpired after a fight between Hayman and another sailor. It's been heartwrenching for the family to cope with.
"So far just one hour at a time, one day at a tim,e it's just a lot to take in. It's not something you can process very easily, so it's just a real loss, it's hard to explain," said Scott.
Hayman's uncle Scott, was extremely close with Morgan. He shot the home video of Morgan and says he was a great example and mentor to his teenaged children.
Hayman fought back tears as he described his nephew, "Beautiful smile, very gracious, very good man. From day one, he was very sweet, open, and loving."
Hayman says Morgan was almost out of the Navy and planned to go to college. Knowing he'll never reach those goals is immensely painful for the family.
"Life is precious you know, it pretty quickly comes into focus how precious life is, and we can only savor the life we had with Morgan and very sad he won't go on and contribute more and serve his country," explained Hayman.
Hayman also wanted to make sure he mentioned how much Morgan's parents loved him. His dad, Don, and Mom, LeeAnn, adored him said Scott. He says their love for him shined in Morgan's personality.
Funeral arrangements have not been set, but the family says they'll likely travel to Virginia for a military service.
(C) WLNE-TV 2014