Fans defend Patriots during rally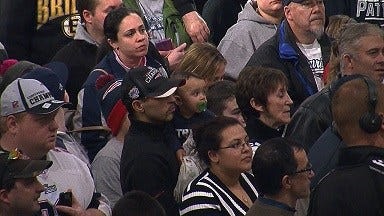 By Dana Griffin
@danagriffinABC6
SWANSEA, MA- Next week they'll ship out to Arizona for Super Bowl 49. But first Patriots players James Develin and Tavon Wilson stopped by Cardi's Furniture in Swansea for a send-off that drew about 150 fans.
"It definitely means a lot. We feel like we had a great crowd on Sunday. We thank all you guys for helping us out," said Wilson.
Patriots players weren't allowed to comment on "deflate–gate" but fans didn't hold back.
Lisa Miguel lives in East Providence. She said, "The other teams are sore losers because this happens every time we go so whatever, we're going- you're not."
"What's going on is kind of BS because they say that other quarterbacks are doing it so not just the Patriots, but everybody's hating on the Patriots," said Miguel Padilla.
After hearing explanations from Coach Belichich and quarterback, Tom Brady, many fans place responsibility elsewhere.
Patriots fan, Alycia Clark said, "I don't think it should fall back on Tom Brady himself. I mean it does go through a layer of people for instance like it goes through the refs hands first who check it and then it goes down to the grounds-keepers, you know who have the ball."
"It won't change my opinion cause my thing is the refs are part of it too. They have the football, they hold it so, my thing is anything was wrong with the football the refs would have known about it too," said Amy Padilla.
Grateful for the support, the players made it clear; they're only focusing on Seattle, not the missing air from last weeks' footballs.
"We just gotta block out everything else because nothing else really matters," said James Develin.
©2014 ABC6/WLNE-TV. All Rights Reserved.