Fans Root Patriots On To Super Bowl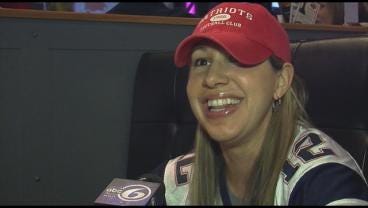 Patriots fans who could not get a ticket to the game packed the bars in Providence to root on their team on the big screen.
"I am the number one fan because I have not missed a game," Sergio Sousa said. "I wear my Wes Welker jersey religiously. It has not been washed all season!"
No matter how fans chose to express their loyalty, die hards packed Snookers Sports Bar to watch this game closely.
"We're gonna spank the Ravens," Laurie Richards said. "Oh yeah, we're gonna win!"
However, underneath the confidence, there was a little bit of concern over how this match up could play out.
"The Ravens scare me. They are a good defensive team, but hopefully Joe Flacco is not our Tom Brady," Mike Wood added.
Even in Patriots territory, there was a select few rooting for the Ravens.
"It's tough, but I'm a tough cookie," Brittany Merson, a Baltimore native said. "I'm gonna root for my team no matter where I'm at!"
Once both teams walked onto the field, there was a lot of clapping, a little booing, and plenty of cheering. In the end, the noise was just enough to propel the Patriots to the Super Bowl.
"I want nothing more than to watch the Patriots take on the Giants because I am a huge Giants hater," Sousa said.
"It's gonna be the Patriots and the Giants and we're gonna spank them," Richards added.