Fatal Bike Accidents On The Rise In Southern New England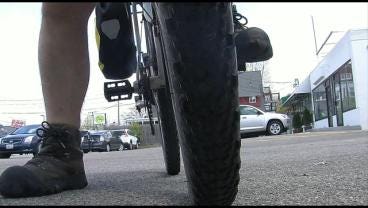 In the last month, three people in Southern New England have been killed in bike accidents. THe most recent in Rehoboth involved a man riding a bike that had been recalled. Cycle experts are weighing in on how to make your ride a safe one.
Wind whipped daffodils sit atop the place where a 58-year-old Attleboro man went for his last bike ride. Police say he fell off, hit his head and died while riding on Homestead Avenue Monday night, marking the region's third fatal bike accident in the last month.
It is a number that has the folks who work at Union Cycle in Attleboro concerned, especially Ron Carlson, who rides his bike 8 miles to work every day.
"The most important thing to do is make sure your tires are pumped up properly," Carlson said. "If your bike is clunking or thunking, it is time to bring in."
Beyond the typical tune up, Carlson has a word of advice to those who buy used bikes.
"Just like a used car, bring it in to a bike shop and have them check it out."
But before you hop on a used bike, hop on http://saferproducts.org to find out if there have been any recalls.
Carlson says he was shocked to hear what kind of recall had been made on the used bike the man from Attleboro was riding. Back in 2008, the manufacturer found that the forks, which hold the tires in place, tend to break off.
"It would be a guaranteed crash. It could very easily catapult you over the fork," Carlson said. "It would be like if your front wheels just fell off your car."
Police still do not know if the defect is what led to the crash that killed him, but cycle experts say you can never be too careful.
"Remember the most important piece of safety equipment is your helmet," Carlson said. "Everything else can heal, but your head usually does not."
Police are still not identifying the man who was killed in the bike accident, but they do say he was riding a Cervelo bike and he was wearing a helmet at the time. An autopsy is being done to determine the official cause of death.