Father accused of beating son held on $50,000 bail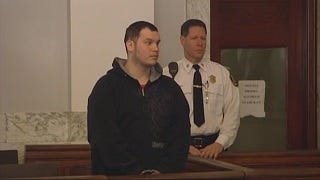 By: Samantha Lavien
Twitter: @samanthalavien
An Attleboro father is behind bars Tuesday night, charged with beating his own infant son, so badly, he ended up in the hospital.
The four-month-old is now in the custody of the state.
22-year-old Ryan Ellis appeared in Attleboro District Court charged with assault and battery on a child under 14 on Tuesday morning.
"The child suffered from two brain bleeds, a spiral fracture to the femur as well as a rib fracture that may have occurred weeks prior. There was bruising on the child's face," said Prosecutor Erin Aiello.
The landlord at Ellis's apartment complex describes what she heard inside his apartment on Sunday.
"Banging on the upper floor- above my head- like something was either being heavily dropped or slammed down," said the landlord.
The boy was rushed to Hasbro Children's Hospital… his injuries are not life threatening.
Family members tell ABC 6 News Ellis a good dad and something here doesn't make sense.
"He always had that baby in his arms. There's no way he did this intentionally- to hurt his son- there's no way. I won't believe it. I can't," said Erica Valentin, Ellis' Aunt.
Meantime, the landlord tells us this is not the first incident.
About a month ago she heard Ellis yelling at the boy and, she called police for help.
"He was just very loud. We just got scared. The baby, at that time, was only about 3 months old," said the landlord.
Ellis is being held on $50,000 bail.
(C) WLNE-TV 2014