Father of murder victim wants answers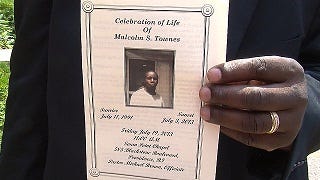 By: Alexandra Cowley
One of the men found murdered in a Central Falls apartment was buried today. Police still don't know who killed him, which is why Malcolm Townes' father is anxious for answers.
"I've been hurt, I've been crying my eyes out for a very long time," said Eric Townes.
Townes says his son Malcolm would have turned 22 on July 11th. But instead of celebrating his birthday, he and the rest of the family are celebrating his short 21 years of life.
"Real happy kid, I mean always smiling,"he said.
Townes got the call on July 4th that his son's body was found inside the 3rd floor apartment at 16 Sylvian Street, along with his friend Nathan Lewis.
"When I heard the news, it takes your heart out," said Townes.
Police discovered the bodies only after a neighbor called to report a foul odor. It's unclear how long they'd been dead inside, but Townes says the last time anyone had contact with Malcolm was five days before he was found.
"I just want to find out the details, and get more, and more information," explained Townes.
Townes says he only knows as much as police have released: They're investigating a double murder and are following several leads.
"We're not sure how he died, I don't think any one knows how he died," Townes said.
It's the not knowing, that hasn't allowed townes and his family to start the grieving process.