FBI Boston arrests two members of "straight community" group linked to Capitol riots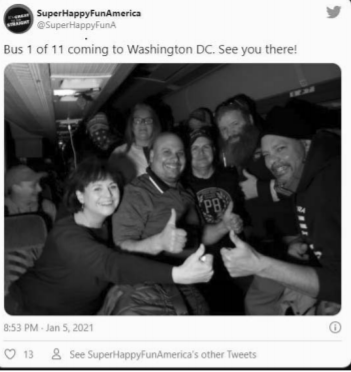 BOSTON, MASS (WLNE) –  The FBI Boston Division arrested two Massachusetts residents linked to the riots at the Capitol building on Tuesday morning.
On Tuesday morning, The FBI Boston Division's Joint Terrorism Task Force arrested 59-year-old, Suzanne Ianni, of Natick, and 46-year-old Mark G. Sahady, of Malden.
Both Ianni and Sahady were charged with:
Knowingly Entering or Remaining in any Restricted Building or Grounds Without Lawful Authority
Disorderly Conduct on Capitol Grounds
Open source information revealed that both Sahady, and Ianni are connected to an organization called "Super Happy Fun America".
Sahady is the vice president of the organization.
The organization, as stated on their own website, claims to be an advocate for the "straight community", and bears the motto, "It's Great to be Straight."
Law enforcement identified a twitter account connected to the group and found a posted stating, "SHFA will be in DC once again on January 6th to get wild."
The account would later post a picture on January 5th of members holding a thumbs up saying "Bus 1 of 11 coming to DC. See you there."
Sahady (Twitter name Mark Shady) had made a post on Election day saying "…Let's plan for a large rally at the inauguration. If Trump wins, we will be there to support him. If Biden wins, we will be there to oppose him and send a message to that tyranny with be resisted."
It was later revealed that Ianni organized the buses to transport the group to D.C.
Both Sahady and Ianni are scheduled to make their initial appearances in U.S District Court in Boston on Tuesday.
©WLNE-TV/ABC6 2021