FBI Boston makes sixth arrest in capitol riots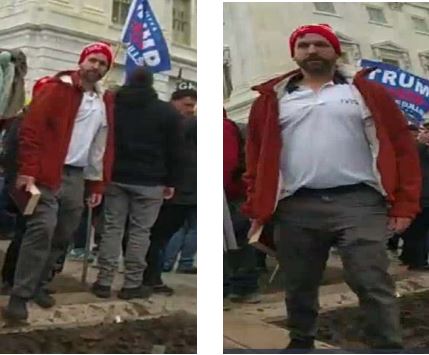 KEENE, NH (WLNE) – On Monday afternoon, officers assigned to the FBI Boston Division's New Hampshire Joint Terrorism Task Force, and Keene police made an arrest linked to the capitol riots from January 6th.
The FBI received tips from individuals who reported 32-year-old Jason Riddle, of Keene New Hampshire, after they observed an interview where Riddle admitted to entering the Capitol building.
Riddle was quoted saying "They were smashing computers, and printers, and breaking things, and throwing papers and lamps around."
When asked why he went in, Riddle said, "I just, I just had to see it".
Riddle also stated he does not regret going inside.
During an interview with the FBI, Riddle told agents he took an Uber with two friends to the area near the Washington Monument.
As He got closer to the Capitol, people continued to move forward and shouting instructions from on top of the scaffolding.
Riddle claims at one point he also saw a man carrying a pitchfork.
Once inside, Riddle would use his cell phone to document and record the rioting that occurred.
A digital photo surfaced showing Riddle holding a bottle of wine while standing inside the Capitol.
Riddle also described those he saw committing violent acts as "psychopaths."
Videos showing Riddle showed him holding a book in his right hand, which was not seen in prior images of him before he entered the building.
The book was later confirmed to be Senate Procedure.

Riddle admitted to selling the book to another individual for $40, and stealing a Fox News Football from the same office, but tossing it aside as he left.
Riddle was taken into custody without incident and charged with the following:
18 U.S.C. § 1752 (a) (1) (2) – Knowingly Entering or Remaining in Any Restricted Building or Grounds without Lawful Authority
18 U.S.C. § 641 – Theft of Government Property
40 U.S.C. § 5104 (e)(2)(D) and (G) – Violent Entry and Disorderly Conduct on Capitol Grounds
©WLNE-TV/ABC6 2021