FBI, IRS and State Police Raid House Speaker's Home and Office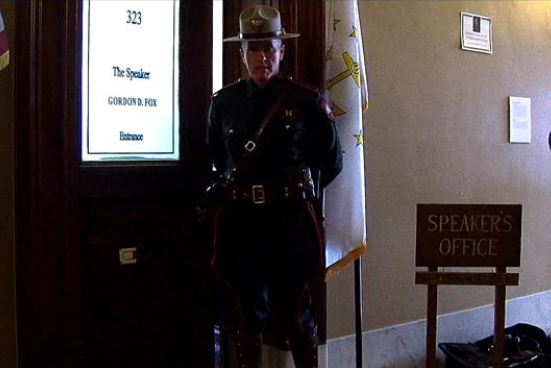 by ABC6 Chief Political Reporter Mark Curtis
One by one a parade of law enforcement agents entered the State House office of House Speaker Gordon Fox, although they are not saying specifically why.
The Speaker's staff was ordered out.
Reporter Mark Curtis question, "Larry just explain what happened this morning?"
"I was in my office working and the State Police came, they asked us to leave.
Curtis question, "And you have no idea what this is about?"
"None," said Berman.
Investigators are also interested in Fox's personal law office, although no one there answered when we knocked.
All told the FBI, the IRS, the Rhode Island State Police and U.S. Attorney's Office are investigating.
ABC6 Chief Political Reporter Mark Curtis, "Since it is Friday, the House is not in session, but certainly there are questions here about who will preside over the chamber and whether any legislation can get done with this cloud hanging over the General Assembly."
The FBI also raided Fox's home on Providence's East Side.
Speculation is rampant this could be about Fox's involvement in the failed 38 studios deal; or income he made from the Providence Economic Development Partnership; or a campaign ethics complaint.
Independent Mark Binder challenged Fox for his house seat in 2012.
"It's sad. It's a sad day fro Rhode Island. I hate to say I told you so, but a year and a half ago we were standing in from the of 38 Studios calling Mr. Fox to account for improprieties and I guess it's time for a spring cleaning of the House," said Binder.
Gordon Fox has been in the general assembly for two decades, the last four years as speaker.