FBI says it won't recommend charges in Clinton case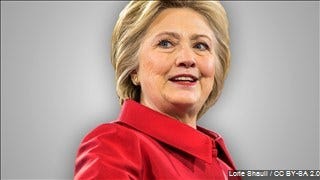 The FBI is not recommending any charges for Hillary Clinton after a yearlong investigation into the use of her private email server while she was Secretary of State.
"There is evidence that they were extremely careless in their handling of very sensitive highly classified information," said FBI Director James Comey.
Comey making the announcement during a press conference Tuesday afternoon. He says his agency spent thousands of hours reading through all 30,000 emails provided to the State Department in 2014. Of those; 110 contained classified information, 8 chains had top secret info, 36 were classified as secret and eight as confidential.
The FBI Director saying that while it is possible that hackers gained access to Clinton's email account there is no direct evidence that it happened.
"Although there is evidence of potential violations of the statutes regarding the handling of private information our judgment is that no reasonable prosecutor would bring such a case," said Comey.
Providence College Political Science Professor Bob Hackey tells ABC 6 News that this likely will not be a significant development in the presidential race because it appears no charges will be filed.
"I don't think it's a major hit and I don't think it's a major boost. I think we're back to status quo," said Hackey..
He says both Clinton and Republican rival Donald Trump face trust issues something he says needs to be watched as there campaigns move forward.
"If you look at some of the swing states like Florida, California the gap is really narrowing. And, I think that's going to be very interesting to see how in those specific states this issue plays," said Hackey.
The case is headed to the Department of Justice which has the ultimate say, though attorney general Loretta Lynch has previously said she will accept the FBI's recommendations.
A spokesperson for Hillary Clinton's campaign releasing the following statement: In response to FBI Director James Comey's announcement that he is recommending no further action by the Justice Department in the matter of Secretary Clinton's emails, Hillary for America released the following statement:
"We are pleased that the career officials handling this case have determined that no further action by the Department is appropriate. As the Secretary has long said, it was a mistake to use her personal email and she would not do it again. We are glad that this matter is now resolved."
(C) WLNE-TV 2016