FDU Stuns Bryant With Late Run, Bulldogs Clinch NEC Playoff Spot With Thursday Results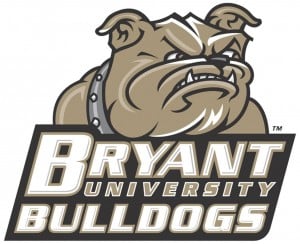 Bryant University Press Release
HACKENSACK, N.J. – The Bryant University men's basketball team clinched a spot in the Northeast Conference Tournament despite Thursday's last-second defeat at Fairleigh Dickinson.
Senior Juan Cardenas (Apartado, Colombia) scored a game-high 17 points and senior Adam Grant (Franklin, Va.) added 16 for Bryant, which led by as many as nine in the second half before the Knights stunned the Bulldogs with a 10-0 run in the final two and a half minutes.
Bryant will play in a Northeast Conference quarterfinal Wednesday, March 4, at a site to be determined, pending the results of Saturday's games, which include the Bulldogs' 2 p.m. game at Wagner.
GAME INFORMATION?
Fairleigh Dickinson 74, Bryant 72
Records:?Bryant (14-16, 6-11 NEC), Fairleigh Dickinson (10-18, 8-9 NEC)
Location:?Rothman Center (Hackensack, N.J.)
Bryant led by eight at the half before FDU scored the first six points out of the locker room to cut the Bulldog advantage to 35-33.
A pair of key three-pointers from Grant broke up FDU runs, with the latter extending the lead to 69-62 with four minutes remaining.
Bryant led 72-64 with 2:19 to play before FDU closed the game on a 10-0 run, scoring the game-winning basket with nine seconds to play.
The Knights missed their first seven shots from the field as the Bulldogs led 4-0 four minutes into the contest.
 Bryant led 12-5 on a pair of baskets from sophomore Patrick Harding (Fairfield, Conn.) before FDU cut the Bulldog lead to one on a pair of occasions at 14-13 and 16-15.
The Bulldogs pushed the lead back to five thanks to four straight points from freshman Benson Lin (New Taipei City, Taiwan), and after an FDU layup, a three-pointer from redshirt-junior Ikenna Ndugba (Boston, Mass.) extended the advantage to 25-19 with 5:54 to play before halftime.
Bryant led 35-27 at the half with 10 points from Cardenas and eight from Pride.
FDU opened the second half with the first six points out of the break and cut the Bryant lead to one before a key Cardenas three broke up the fast start.
Bryant pushed the lead back to eight at 52-44 on a free throw from redshirt-junior Hall Elisias (Valley Stream, N.Y.) with 11:53 to go.
A Grant three would extend the lead to 61-52 and the Knights would get back within four before a deep three from Grant got the lead back to seven at 69-62 with 4:10 to play.
FDU responded to close the game on a 10-0 run to stun the Bulldogs in the closing seconds.
Cardenas and Elisias each earned six of their points from the line. Bryant was 17-for-28 from the charity stripe in the contest.
Freshman Charles Pride (Syracuse, N.Y.) scored eight points and grabbed 11 rebounds for Bryant, which outrebounded FDU 46-29 and grabbed 21 offensive boards.
The Knights shot 60.7% from the field in the second half and closed the game making five of their last six shots.
The Bulldogs committed a season-low seven turnovers.
Bryant drops to 8-13 all-time against Fairleigh Dickinson.
Grant knocked down two threes to pass Jason Bennett for second on Bryant's all-time career list with 296.
Elisias extended his Division I single-season blocks record to 73.
Harding grabbed six rebounds to pass Joe O'Shea for fourth in Bryant's Division I history with 427.
UP NEXT?
Bryant will close out the regular season Saturday at 2 p.m. at Wagner. The results of Saturday's regular-season finales will determine seeding in Wednesday's NEC quarterfinals.