Victims sister to Chafee: stop protecting a murderer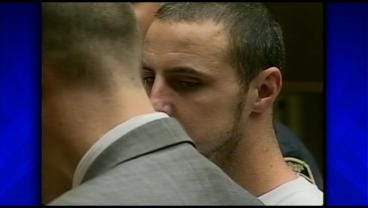 U.S. Attorney Peter Neronha has asked Governor Chafee turn Jason Pleau over, now that a federal appeals court has ruled that he may stand trial in federal court.
Jason Pleau is accused of shooting and killing David Main outside a Woonsocket bank in 2010.
Governor Chafee refused to surrender Pleau to federal authorities last year, arguing the feds want custody of Pleau to expose him to a possible death penalty prosecution. Rhode Island has no capital punishment.
Governor Chafee hasn't decided whether he will turn Pleau over or whether he will seek an appeal.
The sister of David Main, Deborah Smith, sent a letter to Governor Chafee asking he stop trying to "protect a murderer."
In the letter Deborah Smith says:
"My brother was murdered by Jason Pleau. It is time for you to stop wasting taxpayers money on this attempt to protect a murderer from being properly prosecuted by the federal system. Please stop this now! … enough is enough."