Fight to succeed House Speaker Fox intensifies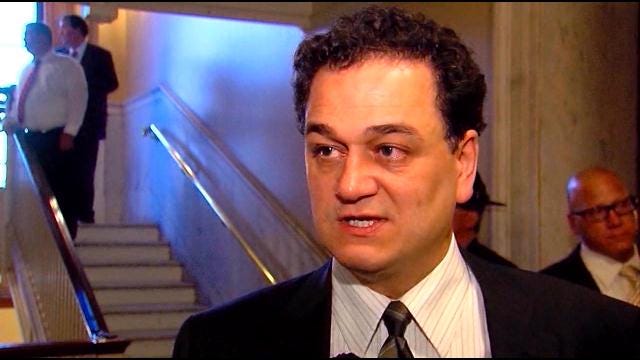 by ABC6 News Chief Political Reporter Mark Curtis
With embattled House Speaker Gordon Fox (D) stepping down, there is a power struggle inside the State House. Majority Leader Nick Mattiello now says he has enough backers to become Speaker. Supporters include Rep. Peter Martin of Newport.
State Rep. Martin (D) said, "We're going to move forward, rapidly." Reporter Question: And you are backing? "Nick Mattiello… And at the end of this, the House of Representatives will be in better shape," said Rep. Martin.

But House Oversight Committee Chairman Mike Marcello says he has at least 33 of the 38 votes needed to win, including South Country Rep. Teresa Tanzi.
State Rep Teresa Tanzi, (D) South Kingstown said, "I am supporting (State Rep.) Blazejewski and Marcello at this time. I think it is very important to kind of turn the page in Rhode Island politics."

ABC6 Chief Political Reporter Mark Curtis said, "Now this whole fight is not just over appointing a new Speaker of the House. It's also about gaining leverage on legislation inside the State House."

Republicans have been pushing for corporate tax cuts, and getting rid of the estate tax, and most hope to gain support by backing Mattiello.
State Rep Joe Trillo, (R) Warwick, a Nick Mattiello supporter said, "He has listened to the concerns that the Republicans have, over trying to get some of our items through, which are things that will help turn the state around financially."
Democrats say the sides must work together, no matter who wins.
State Rep Frank Ferri (D) Warwick and a Mike Marcello supporter said, "We're going to go forward from this point on and that it's going to be a new direction. A new day; not business as usual. It's going to me more transparent, it's going to be more open."
If all goes as planned. Rhode Island will have a new House Speaker, by Tuesday night.
While the focus is on the House Speaker's race, there is also a lot of jockeying behind the scenes, and we hear there could be changes in key committee chairmanships. ABC6 News has been told that House Finance Chairman Helio Melo; House Judiciary Chairman Edith Ajello; and Labor Chairman Anastasia Williams, will likely be replaced.