Figueroa Perfect At The Plate As RailRiders Sweep PawSox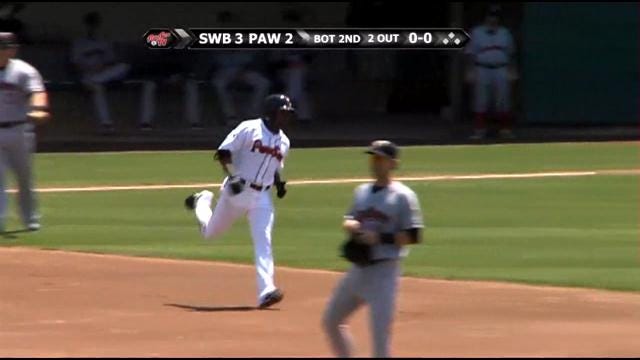 Pawtucket Red Sox Press Release
(Pawtucket, RI) – Scranton/Wilkes-Barre second-baseman Cole Figueroa went 5-for-5 with a homerun and five RBIs to lead a RailRiders lineup that collected 16 hits and 22 total baserunners en route to a 9-6 victory over the Pawtucket Red Sox that completed a three-game sweep on Wednesday afternoon in front of 4,935 fans at McCoy Stadium.
Masahiro Tanaka made an MLB rehab start for Scranton and allowed three runs on four hits in 3.0 innings pitched. Jackie Bradley, Jr. doubled and homered against Tanaka, who threw 62 pitches. Pawtucket (24-24) dropped its fifth straight contest and was swept in a series for just the second time this season.
The RailRiders (25-23) broke open a tie game by scoring single runs in the seventh, eighth and ninth innings against the Pawtucket bullpen. The final two of those were driven in by Figueroa, who homered against John Cornely (2-3) in the eighth and lined an RBI single off of Zeke Spruill in the ninth.
After the PawSox scored in the first against Tanaka on a sacrifice fly by Travis Shaw, Scranton plated three runs in the second against Keith Couch when Figureoa drilled a bases-clearing two-out double. Bradley's solo homer (2) against Tanaka highlighted Pawtucket's two-run rally in the bottom of the second that tied the score at 3.
The RailRiders struck for three runs again in the third off of Couch, with Tyler Austin's RBI single and Jonathan Galvez's RBI fielder's choice grounder plating the first two. A throwing error on second-baseman Deven Marrero allowed the third run of the inning to score and put Scranton in front 6-3.
Pawtucket came back to tie the game against piggy-backing reliever Kyle Davies (3-3) with a run in the fourth and two more in the fifth. Mike Miller's RBI single with two outs in the fourth made the score 6-4, then back-to-back two-out RBI doubles by Shaw and Luke Montz evened the affair at 6.
Davies would settle in and hold the PawSox scoreless in the sixth, seventh and eighth innings to earn the victory for Scranton. The 'Riders took the lead against Cornely in the seventh on a double-play groundout by Kyle Roller before Figueroa added two runs of insurance in the eighth and ninth.
Bradley paced Pawtucket's 11-hit attack by going 3-for-5 with a home run, double and two runs scored. Shaw and Miller each drove home a pair of runs. In addition to Figueroa's five-hit game, Scranton received a 4-for-5 day from catcher Austin Romine and three hits including a triple from left-fielder Ben Gamel.
After a day off on Thursday, the PawSox next welcome Louisville for a three-game weekend series. Game one of the set is scheduled for Friday night with first pitch at 7:05pm. With left-hander Eddie Rodriguez slated to be promoted to the Major Leagues, the PawSox have yet to announce a starting pitcher. The Bats are scheduled to go with righty Josh Smith (1-1, 4.64).
Good seats are still available at the McCoy Stadium box office, by calling (401) 724-7300 or by visiting pawsox.com. Radio coverage on 920 AM (WHJJ) and also streaming online begins at 6:50 pm.