Filibuster with Dr. Seuss ends; Rhode Island reacts to Obamacare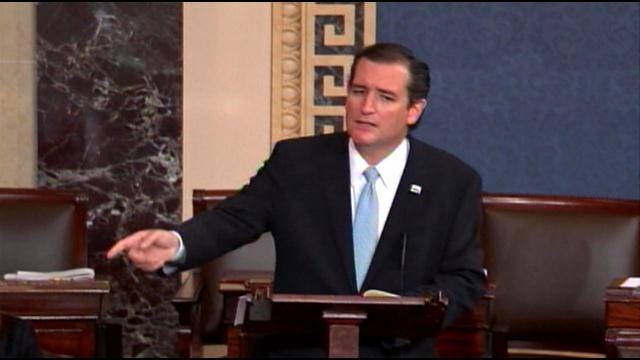 by ABC6 Chief Political Reporter Mark Curtis
"I do not like Green Eggs and Ham, I do not like them Sam I am," said U.S. Senator Ted Cruz (R-TX).
It will go down as one of the most unusual debates in U.S. Senate history.
A 21 hour filibuster, yes, including Dr. Seuss, as Texas senator Ted Cruz tries to stop Obama care.
"I do not like it here, I do not like it there," Cruz read from a Dr. Seuss book.
Democrats were not amused, including former U.S. Senator, now Governor Linc Chafee.
ABC6 Reporter Mark Curtis asked, "You used to be a U.S. Senator. What are your thoughts of a Senator reading Green Eggs and Ham and other things, for 16 hours?"
"Yeah it's shame, it's really a shame," said Governor Chafee.
Senator Cruz finally stopped speaking after 21 hours.
ABC6 Chief Political Reporter Mark Curtis said, "Filibuster or not, Rhode Island will be among the first states to implement Obamacare, as of next week."
"Let's move forward and Rhode Island is really leading the way here," said Governor Chafee.
Many Rhode Island Republicans praised Senator Cruz for his filibuster.
"I thought it was an inspiring effort on the floor of the United States Senate to inform the people of the United States and his fellow Senate colleagues who have turn a blind eye to the negative impacts of Obama care on the nation," said Matt Fabisch, Executive Director of the Rhode Island Republican Party.
Senator Cruz said, "Americans are suffering because of Obamacare."
Republicans say some companies are already laying off workers, and moving full–time employees to part time, so they can avoid having to pay for Obama care.
The health care law, now moves forward to implementation.