Filming begins for 'Purge 3' in Woonsocket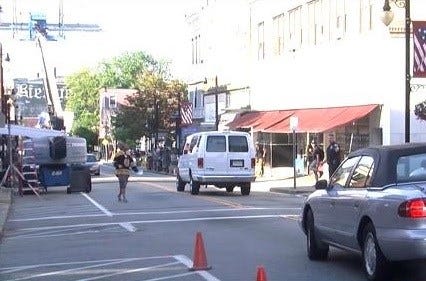 By News Staff
Reporting by Kainani Stevens
kstevens@abc6.com
Hollywood making the rounds in New England as film crews close down parts of Woonsocket to begin filming on the latest installment of the "Purge" series.
Filming for "Purge 3," the latest installment of the horror franchise, kicked off Wednesday in Woonsocket.
Mayor Lisa Baldelli Hunt was pleasantly surprised when Hollywood came calling, "I changed my schedule right around and they came in to explain what they'll be doing. Woonsocket has great architecture and great bones. They tend to like what we have to offer and we were receptive to that, and they were receptive to coming."
"Purge 3 is set in Washington DC, so film crews have been making small changes around the city to make Woonsocket feel more like the nation's capital," the Mayor continued.
Many locals are excited to see their city on the big screen, crowding the area to get a glimpse of the cast and crew—or maybe even make an appearance.
"It's pretty exciting. I'm hoping I can sneak in as an extra. I think it'll bring more people through, just by curiosity," said Woonsocket resident, Gayle DelSelva.
Filming isn't sitting well with everyone, though. Besides the traffic headaches, some local businesses are having to close up shop due to the lack of customers.
"I work at the restaurant over here and I guess they've close downed Main Street, so we aren't getting any business. We're closing up, I guess. They told my boss they weren't going to close up the street… but it turned out the other way," said Ovila Lafleur.
The first two Purge movies have grossed nearly $200 million worldwide, leaving locals hoping the third installment of the thriller will be just as successful.
© WLNE-TV 2015