Fire at abandoned Taunton school deemed suspicious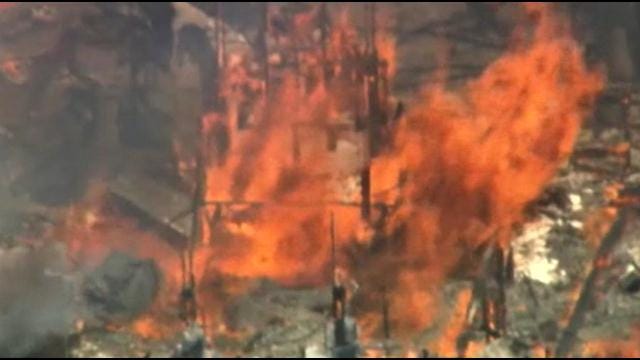 By: Melissa Toupin
Thick black smoke could be seen for miles Monday afternoon pouring out of an abandoned rec-hall at the Paul A. Dever school in Taunton. The building was engulfed in flames by the time fire fighters arrived.
"Its petty scary. I drove through here as kid because I have a lot of family who worked in these buildings taking care of the people that actually lived here at the time," said Robin Jones of Taunton.
The two alarm fire broke out just after 11 AM. Fire fighters worked for hours to put out the flames. The property was once a state school for children with special needs but closed in 2002. Investigators say that combined with the time of day is suspicious.
"There no electricity. There's no utilities or anything, and there was no lighting today so It kind of counts everything out," said Lt. Greg Galligan of the Taunton Fire Department.
Fires like this one are becoming more frequent for neighbors along Bay St. Dever has been the site of four major fires in just the last three years. Several were ruled arson.
"It is nerve wracking and concerning. You know? You never know," said Robbie Jones who saw the smoke.
Fire officials say a major issue is that it's unclear who is in control of the property.
"Security let go about three months ago and now its just been chaos back here," said Lt. Galligan.
Investigators believe someone may have seen something and are hoping they come forward.
Fire crews will remain at the scene overnight in case of any flare ups. Investigators will be back tomorrow morning with accelerant sniffing dogs.
(C) WLNE-TV 2013