Fire burns at Wareham home for over 2 hours before being controlled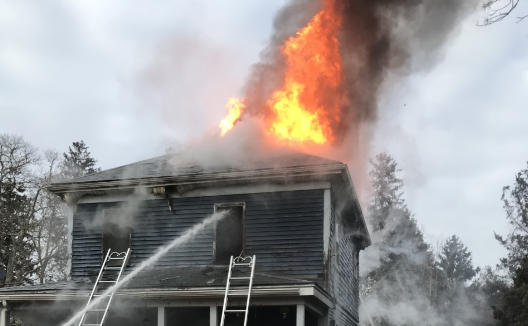 WAREHAM, Mass. (WLNE) — A heavy fire burned at a Wareham home for nearly three hours Saturday afternoon before first responders were able to put it out.
Wareham Police Chief John Walcek said crews responded to 11 Knowles Ave. just after 3 p.m. for a report of smoke coming from the house.
Upon arrival, the assistant fire chief saw a working fire with heavy smoke in the home.
Crew members divided to tackle the fire, some made an interior attack while others operated water pumps.
After it was discovered that all levels of the home were compromised, the building was evacuated, said Walcek.
Crews began an exterior attack while the assistant chief ordered a second alarm.
Walcek said a third alarm was ordered due to the cold weather, ice that was forming, and intensity of the fire.
About two and a half hours later, the fire was under control. By the end of the fire, over 30 first responders had reported to the scene.
Walcek said there were no injuries. The cause of the fire was not immediately released.