Fire destroys business, home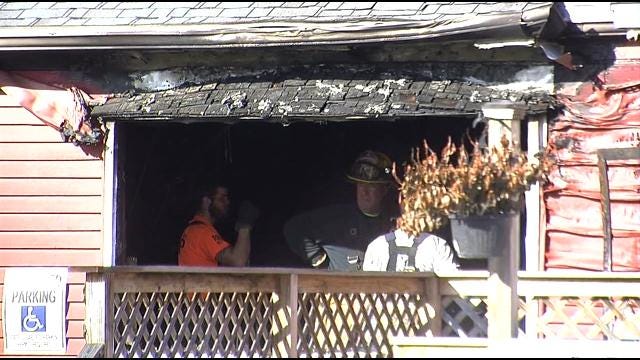 By Dana Griffin
@DanaRGriffin
GLOCESTER, RI- There's good news for a family that lived above a Glocester restaurant after it was destroyed by fire Sunday morning.
"We stood under the sign and all we could do is watch it go up," said Tracey smith.
Tracey Smith, her 12-year-old son and their two dogs lived in the upstairs apartment above Snow's Clam Box.
She was awake just before 5 this morning when her dogs started barking. Minutes later, the fire alarm went off.
"It just went up quick and we were so glad we had gotten out with the dogs and everything. There was just nothing we could do at that point," said Smith.
Tracey has multiple sclerosis and suffered a seizure after running out of the home. She was taken to the hospital as fire crews battled flames that destroyed the building.
West Glocester fire chief, Chris Labutti said, "It goes from the bar all the way to the other end of the dining room so basically the entire first floor has extensive damage from fire and smoke."
The fire was out within seven minutes.
Snow's Clam Box opened in 2012 as a restaurant and sports bar. The building has been home to numerous restaurants for the past five decades.
Upstairs, firefighters located Tracey's medication and a diamond ring that's been passed down three generations.
"This ring's over 100 years old so it was a big deal to find and save my grandmother's ring."
Tracey's son was a little traumatized by the ordeal but despite losing their home, she says they'll move on.
"You know just take it day by day and try to stay as positive as possible," said Smith.
The state fire marshal is investigating. The cause of the fire is yet to be determined.
©2014 ABC6/WLNE-TV. All Rights Reserved.