Fire erupts in Uxbridge, Mass.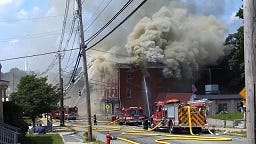 By: News Staff
news@abc6.com
Twitter: @ABC6
Firefighters in Uxbridge, Massachusetts had their hands full trying to extinguish a fire, all in the midst of an extreme heat wave.
The fire, which was due in part to the weather, erupted inside a commercial building on South Main Street at roughly 2 p.m. today.
The building was successfully evacuated and firefighters worked for several hours to put out the flames. Crews from more than a dozen communities responded to the blaze.