Fire forces Providence couple to jump out window with their baby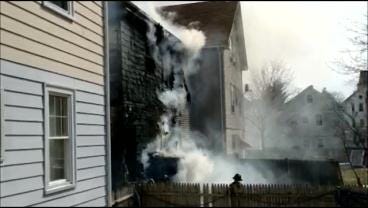 By: Melissa Toupin
A fire broke out at a Providence apartment building just after 1:15 Sunday afternoon. Heavy smoke and flames poured out of the Comerford St. building sending those living inside scrambling for safety.
"On arrival we thought maybe we still had occupants in there, but we found out that two of the occupants on the upper floors had jumped," said Deputy Chief James Mirza.
The flames were so intense the couple living on the second floor had no choice but to jump out of their window, while carrying their baby boy in their arms.
When the baby's father saw flames blocking their only exit he tells ABC6 he and the child's mother rushed to get their son out on the fire escape. Before they could climb down the fire forced them to jump to safety from the top floor.
The mother broke her leg during the jump. A fire fighter was also injured, and was taken to Rhode Island Hospital, but is expected to be okay. The baby was taken to Hasbro Children's hospital as a precaution and is also expected to be okay.
The stubborn fire was fueled by the wind and charred much of the building. The cause remains under investigation.