Fire rips through Cranston apartment complex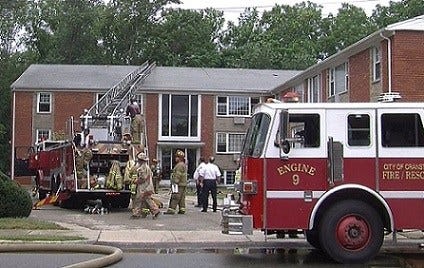 By News Staff
Reporting by Kainani Stevens
kstevens@abc6.com
A tough morning for firefighters in Cranston as they battle flames in a three-story brick apartment building on Broad Street.
"Trying to gain access to the building and then get up the stairs. It was extremely hot, just a lot of heat in the apartment that the guys encountered," said Deputy Fire Chief, Stephen Macintosh.
Weather conditions and logistics made the Thursday morning fire at the Evergreen Apartments difficult to deal with. The blaze broke out on the third floor of the apartment complex, destroying at least one apartment.
"Smoke started pumping up the back… and the ambulance and fire men came. The whole back of this place is destroyed," says Dorka Corporan, a resident of the complex.
The tenant of that apartment, an elderly woman, was home at the time and was able to make it out safely, as well as other residents in the building. Corporan, who recently had surgery, is thankful she got out in time.
"I thought it was a fake alarm because that happens a lot. I went out to check and I figured it was false, but then some guy came around and said it was real and we had to get out," she explained.
Several other residents also tell ABC6 that false fire alarms do frequently go off in the building, but Deputy Chief Macintosh said this time the alarms worked perfectly.
"In this case here, the system worked exactly like its suppose to. It activated, alerted all the residents, and did its job," he said.
The cause of the fire is still under investigation. There are at least 19 tenants in the building that will be notified whether they can return to their homes. The Red Cross is assisting any others they may be displaced.
© WLNE-TV 2015