Firefighter for a day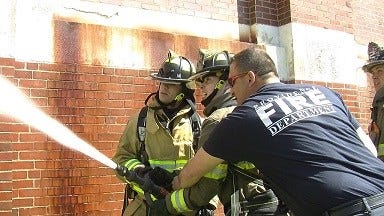 By Dana Griffin
@DanaGriffinABC6
After getting fully fitted in gear and a lesson in operating the air tanks, state leaders got to see just what being a firefighter really feels like.
Providence Public Safety Commissioner, Steven Paré said, "More physically demanding than a police officer particularly when you're going in and you don't have air so you have to depend on the bottle. You don't have any vision because of the smoke."
Smoke made it difficult to see inside a 350-degree crawl space where you had to pull a 150 pound dummy out to safety- all while carrying 60-pounds of gear.
Central Falls Mayor, James Diossa said, "It gets a little anxious in there. But it was a great experience (Dana: you were saying it was kind of scary?) it's scary, very scary because you don't know where you're looking for the body and when it's gonna end and how hot it's getting."
We learned that time is of the essence when a crash victim is clinging to life and you have only minutes to cut them out of a mangled car. These are the exact simulators and equipment used to train Providence firefighters.
Providence Fire Chief, Clarence Cunha said, "We really take our job seriously so we really do our training to really make everyone more comfortable in what they do. The more comfortable you are, the better you're at it."
As Mayor Jorge Elorza learned to put his back into it, prying open a metal door, he's learning just how tough the job of saving lives can be.
"You're carrying all the equipment. I had a to carry a chain saw; it was a good 40 pounds and then you get up there and with the smoke racing and the heat and all this equipment, it gives me a lot of appreciation for what they do," said Elorza.
©2015 ABC6/WLNE-TV. All Rights Reserved.