Firefighters battle two fires overnight Monday in Fall River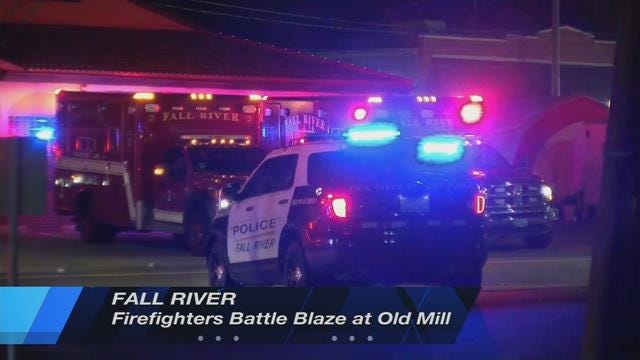 FALL RIVER, Mass. (WLNE) – Firefighters in Fall River battled two fires within a few blocks of each other overnight Monday.
Firefighters got dispatched to the Stafford Mills complex on County Street around 12:15 a.m. Monday, and no more than five minutes later they got a call for a house fire on nearby Tremont Street.
Fall River's Fire Chief John Lynch said every Fall River firefighter on duty was out battling the blazes.
Lynch credited and thanked nearby departments for assisting his department in putting out the flames.
Firefighters are still investigating what caused the fires, but say the flames coming from the back corner of the mill when they arrived were impressive.
"That whole corner was solid flames from the ground all the way up to the fifth floor," Lynch said. "There were heavy flames shooting out of three windows so we were fortunate that we were able to get some ladder trucks over there and they were able to contain it. We are also very fortunate there is a good water supply."
A mutual aid firefighter from a nearby department was taken to the hospital after he suffered an ankle injury. He is expected to be okay.
Lynch said no one was in the mill when the fire broke out but there is a lot of cloth and cardboard inside.
Officials say County Street and part of Quarry Street will be blocked off to traffic for most of the day as crews will remain at the mill looking for any flare ups.
Fall River's newly inaugurated Mayor Paul Coogan was on scene praising his city's fire department.
"If you've ever seen a big mill fire, they don't look like this," Coogan said. "This [fire] is contained to one corner in the roof of the building. They [firefighters] didn't do a good job — they did a great job."
Coogan also emphasized that the city plans to help out the businesses that were located inside the mill.