Firefighters cope with extreme heat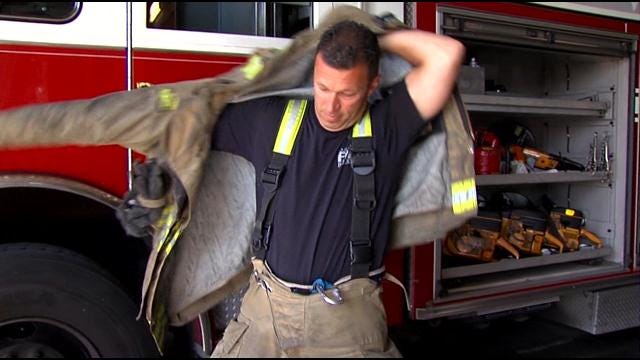 By: ABC6 News Staff
Reporting by: Melissa Toupin
First responders are at the ready to deal with any medical emergency, but when it's this hot going out to a call can be even more dangerous than usual.
Their top priority is the community. This week they are seeing a 30% increase in rescue calls for everything from heat stroke to fatigue. Their EMS and rescues are out constantly.
As the temperatures soar the men and women of the department are also looking out for one another, staying hydrated and cool for as long as they can.
"We have a trainee class occurring…and we're keeping them indoors. We still do PT, but very limited PT," said Capt. Scott Mellow of the Providence Fire Department.
If there's one thing these guys are used to it's sweating, but imagine strapping on all that heavy gear. ABC6 News reporter Melissa Toupin tried it out for herself, gearing up, in the heat. The temperature at the time was 89 degrees. The feel like temperature was a blistering 95 degrees.
The jacket and hat alone weigh 21 pounds. The rest of the gear, including the tanks firefighters carry on their backs, weighs more than 100 pounds all together.
"Well the gear is heavy to start with but it's really stifling. We have to have it buttoned up, our collars up to protect us from the flames," said Paul Doughty, President of the Providence Fire Fighters Union.
Once the job is done the gear comes off, but the damage to the body from sweating so much is already done.
"We're pretty tough guys so we have to be able to get the job done but after we're done we'll get outside, we'll take our gear off, try to cool down, use the hoses," said Doughty.
(C) WLNE-TV 2013