First Challenger Steps Up to Take On Congressman Cicilline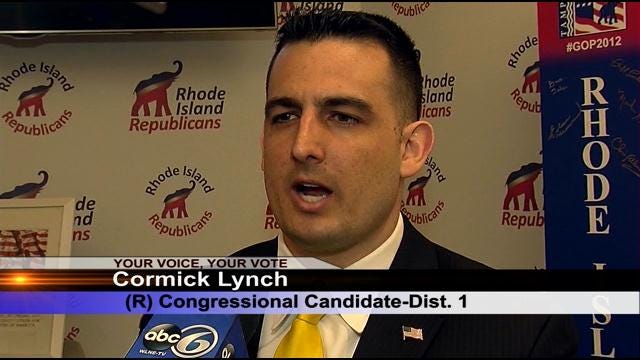 by ABC6 Chief Political Reporter Mark Curtis
Twenty-nine year old former Marine – and political newcomer – Cormick Lynch enters the Rhode Island Republican headquarters in Warwick. Lynch announcing he will take on incumbent Democrat David Cicilline, who has served two terms.
"I came from nothing. I worked in a union before. I graduated college on the GI bill. I'm a combat veteran and I really think I understand the needs of the working class," said Lynch, a former East Providence firefighter.
But Lynch may not be the only challenger. Other Republicans are hoping former "Alex and Ani" CEO Giovanni Feroce might run, or 2010 candidate John Loughlin.
"Rhode Island may be a predominantly Democratic state, but Republicans think they have a shot. After all, when David Cicilline first won the Congressional seat, his margin was just six percentage points, or about 10,000 votes."
But the GOP knows it will have to raise significant money to topple Cicilline.
"I think that we'll be able to get funding from the national party as well as grass roots organizational fundraising her in Rhode Island. He's a very likable guy," said Robert Paquin III, Executive Director of the Rhode Island Republican Party.
As for congressman Cicilline, he says he welcomes the challenge.
"My focus right now is on the single most pressing issue facing our state – that is getting Rhode Islanders back to work. I am going to continue to focus on everything I can do, helping move our economy forward. There'll be plenty of time for campaigning," said Congressman Cicilline. Between Congress, the State House and City Hall, Cicilline has been in office 20 years – something both he and the Republicans hope to position – to their advantage.