First Lady urges people to vote for Gina Raimondo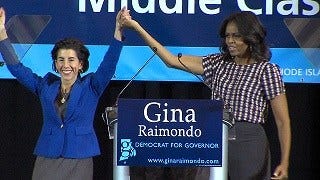 By: Samantha Lavien
Slavien@abc6.com
Twitter: @samanthalavien
First Lady Michelle Obama was in Rhode Island Thursday campaigning for Democratic Gubernatorial Candidate Gina Raimondo.
She spoke to hundreds of voters at the Juanita Sanchez Educational Complex telling them she believes Raimondo is the best person for the job.
"We need to get Gina Raimondo in because you know that on these issues Gina understands, she gets it," said Obama.
With less than a week to go until the election, the latest poll places Raimondo and Republican opponent Allan Fung essentially tied. The Raimondo campaign is hoping the excitement from this visit will translate at the polls on Tuesday.
"This election is the most important election that Rhode Island has had in decades. And you know that and I know that and I'm working as hard as I can for these next 5 days and I need you right there with me to drag this over the finish line," said Raimondo.
And, with the race coming down to the wire the first lady emphasized that every vote can make a difference.
"Make no mistake about it every single one of those votes matters because this election is going to be incredibly close," said Obama.
Many of those in attendance were already Raimondo supporters.
"She's really smart, she isn't afraid to take on the tough tasks that's what I love about her," said Mariann Cooney.
But, others say a heavy weight like the first lady could help them decide who they will vote for.
"I think it will be pretty influential in who I choose," said Irving Robinson.
Obama is just the latest high profile visit in this race Hillary Clinton was in town last week for Raimondo.
And New Jersey Governor Chris Christie and former Presidential Nominee Mitt Romney have recently been in the state supporting Fung.
Christie is due back in town for a third time this Monday.
© WLNE-TV 2014