First New England SAG-AFTRA rally held in Providence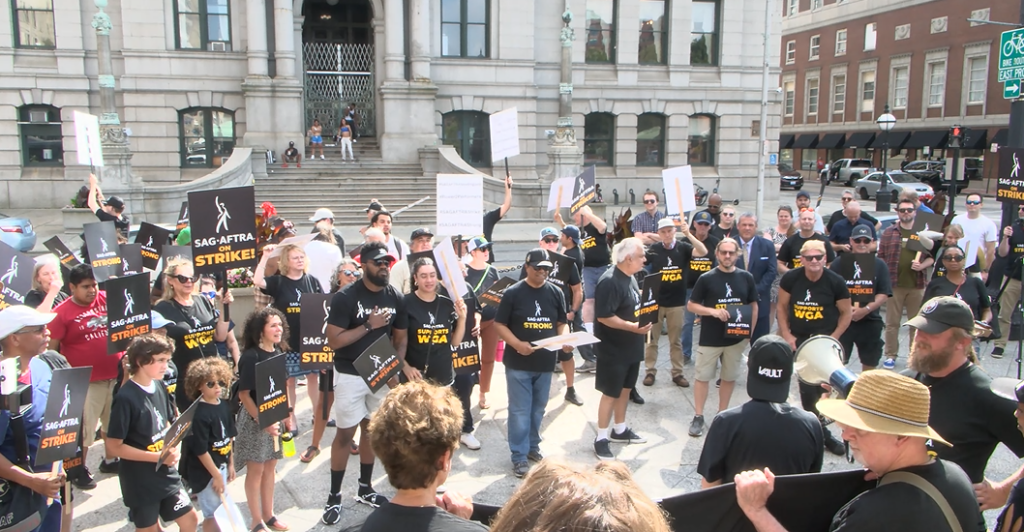 PROVIDENCE, R.I. (WLNE) — The Screen Actors Guild – American Federation of Television and Radio Artists held a rally at Kennedy Plaza in Providence for the first time on Tuesday.
Andrea Lyman, New England Local SAG-AFTRA's President told ABC 6 News that there's a common misconception that writers and actors in the industry are paid handsomely and consistently, but she explained that is not the case.
"People think of movies and television as having these top-paid actors — but actually — they have agents — they get paid differently — but they're supporting us because its all together. We're all one big group. People that are working background, they're part of the movie, people who are stand-in's, they're part of the movie — all of it is part of the movie or television show," Lyman said.
Another concern the group faces is the integration of AI technology. Lyman gave an example of being a background actor in a film, saying normally, she would have about eight days of work in the film in a month.
In a scenario where AI image-reproduction technology is used, a background actor would be needed for less time on-set, and could be placed in the film artificially for later scenes.
Lyman said that would not only impact the actors, but those working hair, makeup, costuming and floor-directing.
While the reason for gathering is not ideal, Lyman explained that the sense of comradery that's grown since striking began has
"These rallies have build such comradery and such a spirit amongst our community. We always had a community when we'd be on sets but now we're at the rallies and you can see how people are supporting each other and finding out who needs help — because, you know, its going to be hard," Lyman said.
She further reiterated that members of SAG-AFTRA are used to finding a way to survive and they will continue to survive, supporting one another along the way.
The next New England SAG-AFTRA rally is planned to take place in Boston in on August 6.