First same-sex marriage licenses issued, weddings held in RI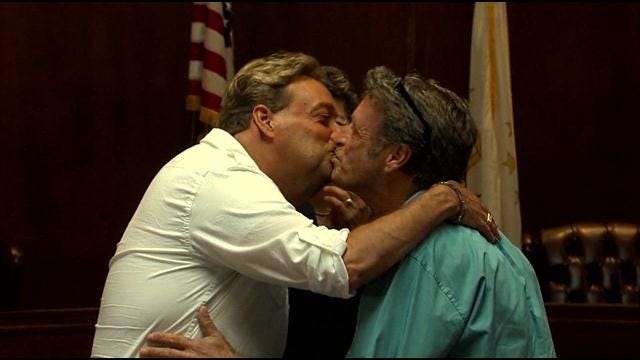 By: Melissa Toupin
Just hours after same-sex marriage became legal in Rhode Island Bill Byrnes married his long time partner, Peter Mitchell. Despite the protesters outside the two exchanged vows in a quiet Pawtucket City Hall ceremony surrounded by family. The men are one of the first same-sex couples to tie the knot in the state.
"We now feel this family is a whole," said Byrnes.
"It's a historic day. I'm thrilled. I'm so amazed at how happy are kids are," said Mitchell.
The day was especially meaningful for their friend, and officiant, state Senator Donna Nesselbush of Pawtucket. She helped pass the bill on the floor in the Senate, and now after 30 years of fighting for gay rights, she and her partner, Kelly Carse, signed their marriage license.
"My heart skipped a beat. There's a very unique feeling when you sign your marriage license," said Sen. Nesselbush.
Their relationship now reaching that next step. It's a special moment neither of them ever thought they would get the chance to share.
"Not only am I excited, but my Mom is beside herself. I'm the only daughter. There are 5 of us. I'm the only one that's not married," said Carse.
Nesselbush and Carse are now planning their wedding.
Marriage licenses are good for 90 days after they are signed.
(C) WLNE-TV 2013