Fish ladders built at 3 dams for river herring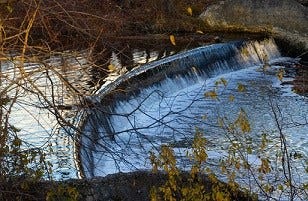 By The Associated Press
PROVIDENCE, R.I. (AP) _ Fish ladders have been built at three dams along the Ten Mile River watershed so river herring can swim to their natural spawning habitat.
The state Department of Environmental Management, U.S. Army Corps of Engineers and other officials marked the project's completion this past week.
They gathered Friday at the Hunt's Mill Dam in East Providence, one of three dams where ladders were built.
Federal funds paid for 65 percent of the $8.9 million project.
A dam was placed at the mouth of the Ten Mile River in East Providence in the early 1900s to create an industrial water supply, Omega Pond. Adult herring return to its base each spring.
Local fishermen and volunteers catch them and haul them over the dam to spawn in the pond's waters. The watershed originates in Massachusetts.
© The Associated Press / WLNE-TV 2015