Five charged in connection to 17-year-old's murder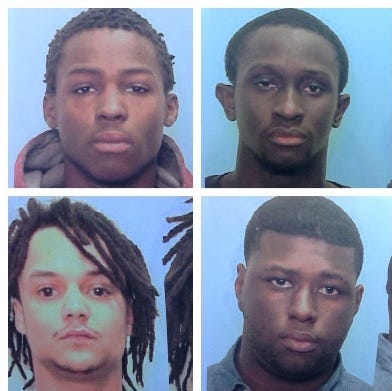 By: News Staff
4 men and one juvenile have been charged in connection to the murder of a 17-year-old high school student last week: 18 year old Ashner Alexis, 18 year old Alain Bedame, 21 year old Anthony Moore, and 19 year old Limamou Ndoye.
The 4 adults were charged with first degree murder and conspiracy to commit murder.
17-year-old George Holland was shot through the window of his girlfriend's home on Colfax Street in Providence on Feb. 4.
Police say the suspects talked about shooting someone inside the Colfax home, but Holland was not their target. Police say that two men approached the home, one knocked on the window to lure his intended suspect, and the other man fired a gun… but that Holland happened to be in the wrong place at the wrong time.
Today, friends and family members came to the court hearing straight from Holland's funeral.
"Hopefully now my family can start healing and not worrying about them being on the streets and doing this to someone else's family," said Gina Bly, Holland's aunt.
"We already feel like we let him down because of this. You know? It's like, good kid, wrong place at the wrong time, it's really messed up," said Christopher Bly, Holland's cousin.
The suspects then fled the scene on foot. The police have been investigating several leads.
The five individuals were apprehended at some point over the weekend.
Friends and family say they plan on returning to court and following the trials of the suspects.
The 4 adult suspects are due back in court for a bail hearing on February 21st, the juvenile will face a judge in family court this Friday.
(C) WLNE-TV 2014