Dee from the Desk: Five political predictions for 2014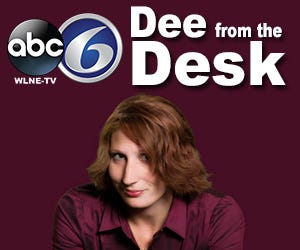 Governor Chafee will make at least one more big announcement. Aside from who he will endorse in the 2014 Democratic primary for Governor, it is likely Governor Chafee will drop one more political bombshell this year. The announcement could be that he has accepted a position in Washington or will join President Obama's cabinet. Some say Gov. Chafee is waiting for Senator Sheldon Whitehouse to be tapped for U.S. Attorney General, so that he can reenter the U.S. Senate, although this option seems less likely.
Catherine Taylor will likely reappear. Remember Catherine Taylor? In 2010, she came so close to unseating Secretary of State Ralph Mollis. In 2014, we might see a rematch, this time for the office of Lt. Governor. Catherine Taylor has been working as the Director of the Division of Elderly Affairs in Rhode Island. Considering the role the Lt. Governor's office has inn the new Health Care exchange, Taylor's background in elderly affairs might be just the thing needed for the job.
A known Democrat will become a Republican and seek a state office. A Democrat that was controversial for his sometimes conservative views might be making a political comeback but this time as a Republican. Expect this announcement sooner, rather than later.
The Republican primary is going to get even uglier. This is a given. We can always count on the Republicans to air their dirty laundry in the media and as the primary ticks closer the blows between Ken Block and Allan Fung can only be expected to get worse. The Block/Fung primary has already gotten pretty ugly with the exchange over what Republican supports which candidate. Silly really because the primary is becoming more about who supports who and less about the issues.
Legalizing pot will become a key issue at the Statehouse. With Colorado become the first state to legalize pot for recreational use, some Rhode Island lawmakers are excited to follow suit. Representative Edith Ajello has consistently proposed a bill that would legalize marijuana in Rhode Island and tax it. Now that Colorado has actually went forward with legalizing pot, Rhode Island may take the measure more seriously. The measure is unlikely to pass, this year anyway, considering it took a few sessions to approve decriminalizing the drug.
---
Dee DeQuattro is the assignment desk manager and digital news coordinator for ABC6. She studied politics and communications and holds a master's degree from Providence College. Follow her on twitter @deedequattro and log on to ABC6 .com for her latest in depth coverage of politics and news.